"If you don't know your numbers, you don't know your business." — Marcus Lemonis
"It's a numbers game, but I don't know which numbers" — Average Salesperson
Okay — I made-up the last quote, but it's still true. Too many times, I meet with sales managers and salespeople who firmly believe that sales is a "numbers game", but they have no idea what numbers they need to know or even what numbers they should be tracking.
Most sales leaders focus on KPI's (Key Performance Indicators) and while they are important, they do not help produce sales improvements. KPI's are like your scorecard after a round of golf, fun to see how you played, but they can't help you play better for the round you just finished. 
Rather than focus on KPIs, it's time to concentrate on Leading Indicators so that we can effect change during the game that will help you and your team win. Think of leading indicators as data that allows you to make "in-game" adjustments, so that your team can keep scoring.
What Are Leading Indicators in Sales?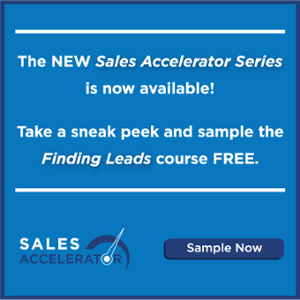 Salesforce states that, "a leading indicator describes everything that leads up to making the sale. It's the top of your sales pipeline and defines how capable you are at opening an opportunity — not closing a sale."

Leading indicators provide insight into likely future outcomes, giving organizations the ability to act accordingly in the present. To improve "in-game" performance, we need to add leading indicators to your sales management toolbox.
Leading indicators help you determine whether you and your salespeople are doing good, bad, or ugly. They help us manage our activity so that we can know how much more we need to do to produce success. If this was a football game, your leading indicators would be:
The number of offensive plays
The yards per carry
Your completion rate
Your quarterback rating
If you know these numbers, you know if you're doing the right things, in the right way, to score touchdowns and win the game.
In the world of sales, leading indicators give us real-time data on how sales are going. They tell you if your team has enough activity, the right amount of proposals, and what your closing ratios are. 
Leading Indicators Sales Managers Need to Track
How often have you assumed that your sales team was going to hit their goals and then suddenly, all of their pending disappears, and they miss budget? Sadly, it happens too often. Most Account Executives are not good forecasters, which puts sales managers in difficult situations.
So, which Leading Indicators should you track? The answer depends on what is important to your organization and what indicators are predictive of the overall success of your team. 
5 examples of Leading Indicators that you can track: 
Number of New Business Appointments

Number of Needs Analysis Completed

Number of New Proposals

Closing Ratio

Average proposals sold
Tracking leading indicators does three things for you:
Gives you real-time data for your sales team and salespeople

Helps you know what they need to be doing to be successful

Predict the success of your sales team
You'll be able to see in real-time if a rep is making enough new appointments, presentations, and ultimately sales to meet or even exceed their sales budget.
"Knowing your numbers" will help you not only know your business but also help you hit your goals.
Want to hear more from Trey? Register today for the virtual Revenue Momentum Summit on February 19, where he will be sharing about shifting from products to solutions!
Trey Morris
Senior Consultant, The Center for Sales Strategy 
Trey Morris is a Senior Consultant for The Center for Sales Strategy. He is known as a leader, a creative storyteller, and for delivering hefty sales results.
He has spent 25+ years in the world of broadcasting and advertising by holding every significant role in the sales funnel. He's sold advertising, managed radio station sales teams, ran his own full-service advertising agency, been a Chief Marketing Officer, and started a successful restaurant chain.
Born and raised in Dallas, he spent the first 10 years managing radio stations in Dallas and Chicago. While in Chicago, he branched out and ran a full-service advertising agency that specialized in developers and home specialty retailers.
In 2008, he launched Q BBQ, a Michelin award-winning barbecue restaurant with 4 locations in the Chicago area. In 2013, he left the business world for the ministry world. He joined the ministry of Pastor James MacDonald's Walk in the Word. As Executive Producer, Trey oversaw his radio ministry and created the NRB award-winning Walk in the Word Television program that aired on TBN, Daystar, and Hope Channel in Canada.
In 2015, Trey felt the calling of Texas and moved the family back to North Texas, where he was the Chief Marketing Officer for the Boenker Group of Companies, a family-owned insurance holding company, that had revenues of over $300 million per year. Trey has been married for 25 years to Rebecca, his Baylor sweetheart, and father to Haley and Jordan.